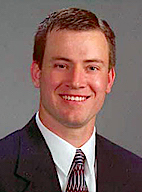 Specialties
Shoulder Arthroscopy
Rotator Cuff Tears
Shoulder Instability
Knee Arthroscopy
ACL and Meniscus Tears
Sports Medicine
Cartilage Replacement & Regeneration
Biologic Injection Therapies
Board Certification
American Board of Orthopaedic Surgery
National Board of Medical Examiners
Wyoming Board of Medicine
National Board of Physicians & Surgeons
Education
Creighton University – B.S. 2000
Creighton University School of Medicine – M.D. 2004
Residency
Department of Orthopaedic Surgery
Medical College of Wisconsin
Milwaukee, Wisconsin
Professional & Honor Societies
Fellow American Academy of Orthopaedic Surgeons
Alpha Omega Alpha Medical Honor Society
Alpha Sigma Nu Honor Society
On a Personal Note
Dr. Zebroski grew up in Lander, enjoying the outdoor activities and wilderness that make the State of Wyoming unique. While attending Lander Valley High School, he met his future wife Jessie, and together they always intended on returning to the state they love.
After graduating high school, Dr. Zebroski spent a year playing soccer in Barcelona, Spain, before returning to the States to attend college at Creighton University in Omaha, Nebraska. In 2000, he completed his bachelors, was married to Jessie, and together they continued on at Creighton for his Medical Doctorate. Following Medical School, Dr. Zebroski trained at the Medical College of Wisconsin, acting as Chief Resident in the Department of Orthopaedic Surgery.
Dr. Zebroski, his wife Jessie, and their 3 children feel blessed to live in Wyoming. They volunteer in a number of youth related non-profit organizations in the area, and enjoy backpacking, fishing, mountain biking, skiing, soccer, and tennis.
Ready to schedule an appointment?