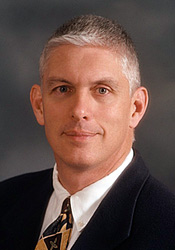 Specialties
Sports Medicine, Knee and Shoulder Arthroscopy, and Joint Replacement
Board Certification
American Board of Orthopaedic Surgery
Education
University of New Mexico School of Medicine 1990
University of New Mexico Health Sciences Center Orthopaedic Residency 1995
Professional Associations
Alpha Omega Alpha (Medical Honorary)
American Academy of Orthopaedic Surgeons (AAOS)
International Society of Arthroscopy, Knee Surgery and Orthopaedic Sports Medicine (ISAKOS)
Publications
Seven published articles
On a Personal Note
At the age of four, Dr. Ferries' family moved to Sheridan in 1964. Growing up in Sheridan, Dr. Ferries attended Linden Elementary, Central Junior High and Sheridan High School. He then attended the University of Wyoming receiving his B.S. in 1982.
While earning his MD degree from the University of New Mexico School of Medicine, Dr. Ferries met his wife, Laura, who also completed her medical studies in Albuquerque. They completed their respective residencies and fellowships, orthopaedic surgery and endocrinology, returning to Sheridan to establish their practices.
In addition to their busy schedules, Laura and Jim enjoy a multitude of outdoor activities at their ranch West of Sheridan. If they are not enjoying their dogs or horseback riding they are dedicated to the responsibilities and traditions of ranch life in Sheridan.
Ready to schedule an appointment?