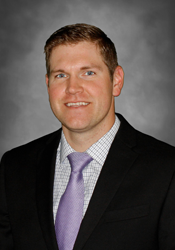 Specialties
Neurosurgery – Spinal surgery
Board Certification
National Commission on Certification of Physician Assistants, board certified in 2016
Wyoming Board of Medicine
 Education
University of Wyoming 2010
Laramie County Community College, Surgical Technology 2011
Northern Arizona University, Masters of Physician Assistant Studies 2016
 Professional Associations
American Association of Physician Assistants
Phi-Theta Kappa Honors Society
On a Personal Note
Sean Schoonover PA-C grew up in Cody, Wyoming. Following high school, he attended Hastings College in Nebraska, where on scholarship, he played baseball. Returning to Wyoming, he attended the University of Wyoming and played on the Cowboy's club baseball team.
He attended the University of Wyoming and earned a Bachelor's Degree in physiology minoring in neuroscience and psychology. While there, he met his future wife Toni, a registered nurse, originally from Sheridan.
Later, Sean attended Laramie County Community College where he earned an Associate's Degree in Surgical Technology. During his first employment at Sheridan Memorial Hospital, he worked closely with the Sheridan Orthopedic specialist teams.
He furthered his studies, at the Northern Arizona University, where he completed Physician Assistant training. After earning his Master's Degree, Schoonover worked at the Mayo Clinic's Phoenix Campus in the Neurosurgical department and focused on spinal surgery.
Following the birth of their first child, Bailey, the opportunity at Sheridan Orthopedic Associates, P.C. allowed he, his wife and daughter to return to Sheridan to be closer to family, and enjoy all that Wyoming has to offer.
Ready to schedule an appointment?