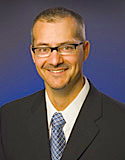 Specialty
Orthopaedic Spine Surgery
Board Certification
American Board of Orthopaedic Surgery
Education
University of Wyoming- BS
Palmer College of Chiropractic-DC
University of Wisconsin-MD
University of Wisconsin-Orthopedic Surgery
University of Pittsburgh Medical Center- Fellowship: Orthopaedic Spinal Surgery
Publications
(7) Published articles.
On a Personal Note
Dr. Ulibarri grew up on a ranch south of Douglas, Wyoming. His first significant orthopedic experience was at the age of 11 when he had a near finger amputation which was successfully reattached by an orthopedic surgeon in Casper. He graduated from the University of Wyoming with a BS in Zoology. Subsequently he obtained a Doctor of Chiropractic at Palmer College in Davenport, IA. Wishing to further his study of the spine, Dr. Ulibarri completed his medical degree and orthopedic surgery training at the University of Wisconsin, and finally, his spine surgery training at the University of Pittsburgh. Following this, he and his family spent several years in Knoxville, TN, where Dr. Ulibarri worked as a spinal surgeon at the University of Tennessee-Knoxville Hospital.
Dr. Ulibarri is now in his second decade of practicing spinal surgery and has developed special interests in motion preservation and less invasive spinal procedures of the cervical, thoracic and lumbar spine. In addition, he performs revision spine procedures, surgery for degenerative disease, tumor and trauma. Dr. Ulibarri excels and enjoys enabling people to regain function and return to their regular daily, work and recreational activities.
Ready to schedule an appointment?